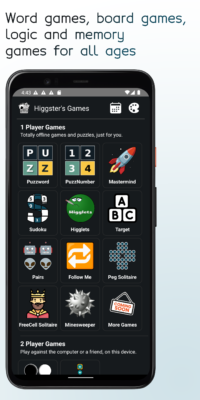 A feature-rich, clean and minimal games compendium, with word, number and strategy puzzles.
13 unlimited games for 1 or 2 players, including Sudoku, Reversi, Solitaire, Minesweeper, the three modes from Puzzword, (Wordle, a number version and Emoji Mastermind) and more. All advert free, totally offline and safe for all.
I aim to make it the cleanest, slickest word, number and strategy games app on the Play Store (Android) and the Apple Store (iPhone and iPad), so constructive feedback is always appreciated.
Features:
13 different puzzle, word, number, logic, memory and strategy games
Totally offline
Safe for kids
No adverts, ever
Statistics and Tracking
English, US English, French, Spanish and Portuguese language support
Multiple Themes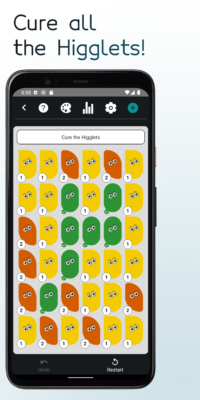 Re-introducing Higglets
Higglets is a simple to pick up but incredibly difficult to master puzzle game. Treat the infected Higglets but by doing so, you'll treat the Higglets to the left, right, above and below. If they're healthy, you'll actually make them ill! Cure all the Higglets to win.
Features:
Infinite levels
Lots of configuration, including how many turns, how many virus levels the Higglets can have, size of the board and more.
Statistics
Fully offline
Current Games / Modes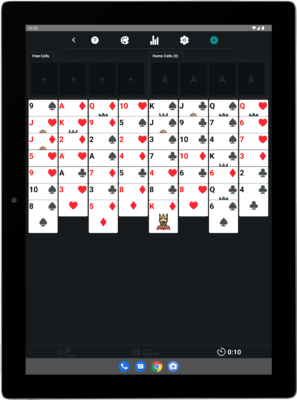 FreeCell Solitaire
Everybody's favourite 1 player card game. Move all of the cards to the top right, starting with Aces up to Kings each of the same colour but to do so, you have to untangle the board one by one.
In the main area, move cards one by one into alternating colours, in order from highest numbers/values at the top, to lowest numbers at the bottom. When you're stuck, move card(s) to the Free Cell areas at the top left to make some space.
Great fun, unlimited games and various settings to improve your play. Never interupted by adverts and your game will be saved even when you leave the app.
MineSweeper
I wanted to build this, for ages. I finally got around to it and now it's yours for £1.99 (alongside all of the other games here). A mobile / tablet version of the classic game, Minesweeper. Minimal graphics, clean and fresh.
You can change the board sizes from 6×6 up to 12×30 (depending on your device), various difficulty settings and toggles.
Click on a square to "clear" it but if it's a mine, BOOM. Game over. If not, a number will be shown, representing how many mines are to the sides, above, below or in the corner squares adjacent. Use this number to carefully plan your progress and clear the whole board.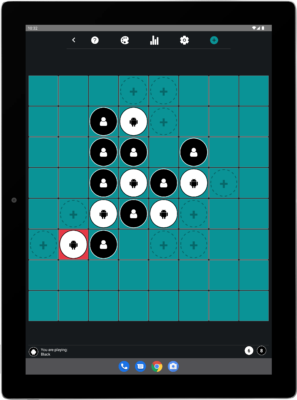 Reversi
Great to play with a partner when travelling. I play this with my wife regularly. 1 or 2 player modes of the strategic board game, Reversi (Othello). Turn the opponents pieces to your colour by placing yours either side and finish the game with more of your pieces to win.
Against the computer, Easy and Medium difficulties start off friendly but Hard can be fiendish. (I will work on a "very hard" mode if enough people request it!)
Saved games, statistics for 1p matches and a minimal, clean interface.
Connect 4
Great kids game. Connect 4 of your coloured pieces to win. 1 player (vs a computer) or 2 player modes (on the same device) available. Totally safe and offline, so great to leave the children with on a long journey.
Place your coloured pieces on the board, from the bottom row up. 4 in a row, column or diagonal and you've won. Play vs the computer for an added challenge.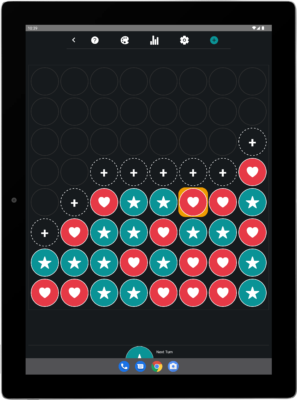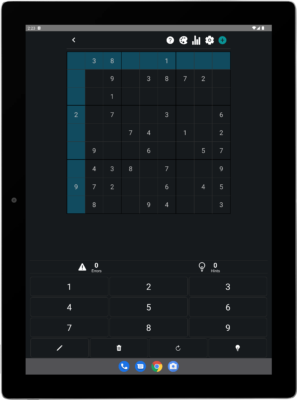 Sudoku
The classic number puzzle, Sudoku. Fill in a 9×9 grid of numbers, so that each row, column and each 3×3 grid has the numbers 1-9 in with no duplicates.
For addiotional challenge, one that warps your brain, swap the number for emoji. Same game but requires a different logic approach.
With 3 difficulty settings, timers, statistics and unlimited games, this Sudoku game will provide endless gameplay!
Emoji Mastermind
Based on the classic game, Mastermind, where players had to guess a combination of colours, I present you with Emoji Mastermind. Guess the combination of emoji to solve the game, each guess we will tell you how many are correct and how many are in the correct place but not which ones are which!
Note Also… emojii are not only more fun but are more accessible than colours.
Puzzword (Wordle)
Simple but addictive word guessing game, inspired by Wordle / Jotto / Word Mastermind with loads of new features on top.
3700 words in en-GB (British English) and en-US (US English)
2000 5-letter, 6 and 7 words in es-ES (Spanish)
2500 words in fr-FR (French)
Win statistics, with sharing options
Winning streak and longest streak stats
Ability to enter keys in any order by clicking on them.
Target
Submit as many words as you can from the 9 letters on the screen but make sure you include the middle letter! Any 3 letter word will count but if you can find the 9 letter word, that'll be scored as a winning game.
Pairs
Starts out as a simple memory matching game. Flip the cards 2 at a time, reveal a pair and they'll stay revealed. Reveal them all and you win. Sounds simple? Try the 8×8 size, 64 different cards, 32 pairs for a real challenge.
Follow Me
Remember Simon Says or similar games, where you follow a sequence of 4 coloured lights? Well imagine that but turbo charged. Up to 25 emoji, unlimited sequence length and options to make it faster. I bet you can't get past 15. Great fun for kids and adults alike.
Peg Solitaire
This is hard. 3 variations of peg solitaire, for you to solve, English, French and Diamond boards. Clear a peg, by "jumping" another peg over it. Do this for all pegs and leave the last one in the centre spot to win. Fiendish.
PuzzNumber
Simple but addictive number guessing game, similar to PuzzWord / Wordle but this time, with numbers. All the core featuers of PuzzWord plus…
Unlimited puzzles auto-generated by the app
SumTotal mode
4, 5, 6 and 7 digit number puzzles
Why Build A Games Compendium?
In the days before mobile phones, people read newspapers. These often included pages dedicated to strategy puzzles, word puzzles, number challenges and more. Hoping to tingle your nostalgia, I built a collection of games in one neat app, which features a wide variety of classic and modern puzzles, in one app, originally called, The Puzzle Pages.
Each game has unlimited puzzles, autogenerated as you play, so you'll never run out of games.
As I added more and more games, it became more than just puzzles, so it was rebraneded as Higgster's Games Compendium. With new modes added regularly, at no extra cost, there's always something new to challenge your mind. Higgster's Games Compendium is the perfect way to relax and unwind, or to test your brainpower.
Download it today and start playing!
Note
I want to make Higgster's Games Compendium one of the best quality games compendium, with word games / number games and puzzles on the store, so feedback is truly welcomed and appreciated.
Loads of feedback actioned already, please keep it coming.
Feedback welcome via Twitter @iamthehiggster or email [email protected].